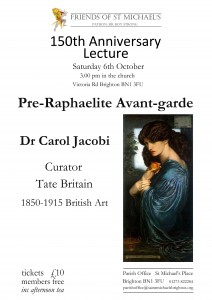 Carol Jacobi, one of Tate Britain's senior curators and an expert on the pre-Raphaelite movement, is giving a talk at St Michael's on Saturday 6th October. Ms Jacobi was one of the organisers of Tate Britain's latest exhibition Pre-Raphaelites-Victorian Avant-Garde, which opened in London in September.
The talk is part of the Friends of St Michael's continuing fund-raising efforts. The Friends are raising money to carry out urgently needed work to stabilise the stained glass windows which are one of the glories of our only Grade-1 listed building.
The lecture is at 3.00pm on Saturday 6th October. Admission is £10 and includes tea and cake.
Twentieth-century research has recast the Pre-Raphaelite Brotherhood as radicals, writes Carol Jacobi. In 1848 revolutions swept through nearly every country in Europe and seven students banded together to generate a revolution in art. The Pre-Raphaelites were the first to self-consciously style themselves as 'Young British Artists' wrenching British painting away from convention and dependence on European Old Masters.
The Pre-Raphaelites lived at a time of tremendous industrial and economic change when everything was being redefined – work, society, beliefs. The men and women in the Pre-Raphaelite circle experimented with all of these; their convictions, lifestyle and relationships were as radical as their art. Their passionate, anti-establishment personalities matched the daring stories and extreme techniques of their dazzling and sometimes disturbing paintings.
Carol Jacobi writes and broadcasts about British art and is Tate Curator of British Art 1850-1915