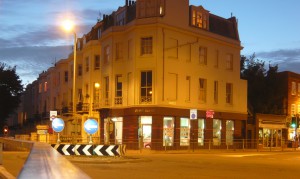 The City Council has set aside £550,000 to be spent over the next three years on the Seven Dials roundabout and the roads nearby. The main purpose of this spending is to reduce the number of road accidents. Improvements to the appearance of the roundabout seem to be incidental to the project which is being managed by a transport planner although an urban design officer also attended the first consultation meeting held in St Luke's church on the 20th August.
It must be hoped that some of this money will be made available to enhance the visual appearance of this busy and cosmopolitan part of the city.
There is concern that the money will simply be spent on diverting traffic from the roundabout onto neighbouring residential streets with accidents being conveniently dispersed in the process. Whatever the outcome of the council's decision next spring, we should not expect any magical transformation, bearing in mind the £750,000 cost of the cycle lane in the Drive, Hove. With traffic lights alone costing some £70,000 to install on each crossing there is a likelihood we will have to live with a dismal utilitarian junction, at least until another council regime comes up with its own  "improvement scheme" .