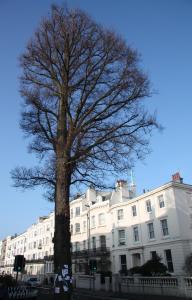 THE majestic elm tree that has graced Vernon Terrace for 130 years is to stay after the council's transport committee agreed to make minor changes to the Seven Dials improvement scheme at its meeting on 30 April.
The future of the elm tree was not included in the original consultation on the Seven Dials' improvement scheme. But in January the council's transport committee approved a plan for the improving the junction that included felling the 130-year old elm. Most local residents, and at least some of the councillors on the transport committee, were unaware that the scheme affected the elm.
Most local residents only found out about the plan to chop the elm when the council distributed a schedule of works towards the end of February.
Events moved quickly. The council seemed determined to fell the tree. Two protesters, Tom Druitt and Stephen Hendry, climbed the elm at 11 pm on 6 March. On 7 March the council was forced to send the tree surgeons home.The protest won a stay of execution for the elm and the council agreed to talks.
On 12 March more than 100 people packed the West Hill Community Hall on a freezing night to voice their support for the tree. The meeting set up the SaveOurTree group to campaign top save the elm. And more than 4,300 people, including local MP Caroline Lucas, signed a petition calling on the council to save the tree.
On 28 March the petition was presented to the council, which voted unanimously to ask officers to come up with a plan to save the tree. The MCHA has been active behind the scenes in supporting the efforts of local residents to save the tree. In mid-April the MCHA, and other local groups, wrote to the chair of the transport committee and other key councillors, asking them to use their efforts to save the tree.
In April the officers came up with a compromise plan. The pavement will be built out around the tree creating an additional 1-metre wide pathway between the tree and the road as well the existing pavement between the elm and the front garden walls. The width of the road in Vernon Terrace will be reduced from 7.4 metres to 6 metres, which is still wide enough for two-way traffic.
This was the plan that the transport committee agreed on 30 April. The works around the tree are due to start in mid to late May and will take around two to three weeks to complete.