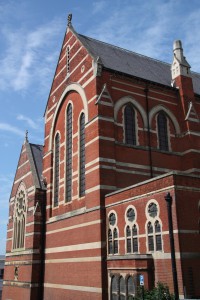 The Annual General Meeting of the Montpelier and Clifton Hill Association will be held at 7pm  on Thursday 21st June in the church of St Michael and All Angels, St Michael's Place, Brighton. It will be followed by a talk on "The story of the Sussex pub" by the noted local historian Janet Pennington.
The main item on the AGM agenda is to approve a new constitution for the MCHA. This constitution is based on the Charity Commission's model constitution. All members have been sent a summary of the changes. You can find more details about the changes by clicking here. And you can download the constitution here MCHA CONSTITUTION 2012 (Proposed). You can also obtain a paper copy of the proposed constitution by contacting the chairman, Jim Gowans, on 01273-325185. A limited number of copies will be available at the AGM, prior to the start, but be warned: the proposed constitution runs to 18 pages so it will take some time to read.
Nominations for the committee have now closed. All the existing officers are standing for re-election and they are unopposed. Four of the other five committee members are also standing for re-election. Lori Pinkerton-Rolet is standing down because of pressure of work and Michael Fisher, of Wykeham Terrace, is standing in her place. All of these candidates are standing unopposed.