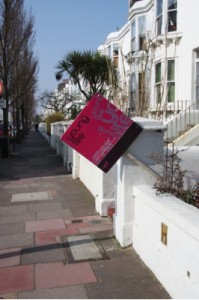 Three estate agents have been fined £1,000 each for putting up boards in defiance of the council's ban on estate agents' boards. The council banned all new "for sale", "sold" and "to let" boards on residential properties on 20th September 2010.
Mishon Welte and Priors were both fined at Brighton magistrates court on 24th March. Cubitt and West were fined £1,000 for another rogue board in May.
The number of boards in the Montpelier and Clifton Hill conservation area has plummeted since Brighton and Hove City Council banned "for sale" boards last year.
The Montpelier and Clifton Hill Association carried out the first ever comprehensive survey of boards in the conservation area to gauge the effect of the ban. Boards that were erected before 20th September 2010 can stay until the property is sold or let. The ban covers almost all the city's central conservation areas .
The MCHA survey in March found 27 boards in the conservation area. The association established how many boards there were before the ban by carrying out a virtual survey of the same roads on Google Streetview. The Streetview pictures, which date from spring 2009, show that there more than 60 boards in the area before the ban. By end end of July only half a dozen boards were left in the conservation area.
The MCHA is sharing the results of its survey with the council and the council will be able to draw on the evidence from the MCHA survey to take action against agents erecting these rogue boards.
Some agents still seem hazy about the regulations. A number of new boards have been erected in the conservation area, but all of these have now been removed. The boards that remain are now all advertising hard-to sell properties. Do estate agents really want to advertise this fact?