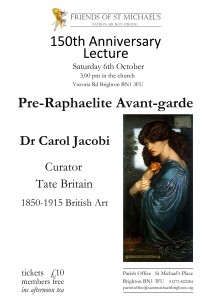 Carol Jacobi, one of Tate Britain's senior curators and an expert on the pre-Raphaelite movement, is giving a talk at St Michael's on Saturday 6th October. Ms Jacobi was one of the organisers of Tate Britain's latest exhibition Pre-Raphaelites-Victorian Avant-Garde, which opened in London in September.
The talk is part of the Friends of St Michael's continuing fund-raising efforts. The Friends are raising money to carry out urgently needed work to stabilise the stained glass windows which are one of the glories of our only Grade-1 listed building.
The lecture is at 3.00pm on Saturday 6th October. Admission is £10 and includes tea and cake.