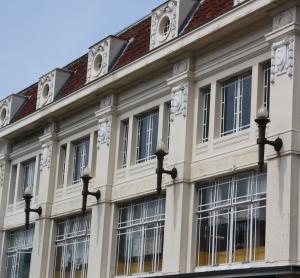 IN 1903 Brighton Corporation began the long process of widening Western Road when it bought the front gardens of several houses on the north side, all in the block between Montpelier Road and Hampton Place, writes Mick Hamer.
At the time Western Road was barely 24 feet wide for much of its length—very little wider than the side streets that run into Western Road, such as Dean Street and Spring Street.
It took more than 30 years to widen Western Road. The last piece of the jigsaw fell into place when Mitre House opened in 1935. The corporation had succeeded in widening the road carriageway to at least 36 feet, so that it could take three or even four lanes of modern motor traffic.
The result of this widening was the loss of some historic Regency and early Victorian buildings, similar to those on the south side of Western Road, which was not affected by the widening. But these lost buildings  were replaced by some fine art deco buildings, which despite more modern shop fitting at street level are still remarkably intact above the ground floor. Continue reading →